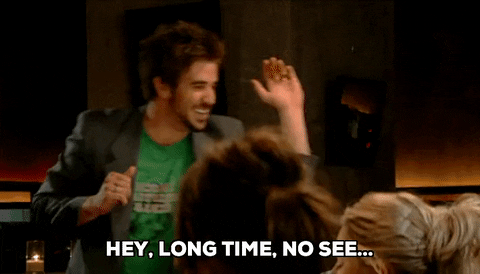 I really didn't mean to disappear for over 2 weeks, but things have a way of happening, and I ended 2016 very differently than I thought I would. But let me back up a bit and keep this a Cliff's notes version before moving ahead…
Our church's Christmas cantata was really good! I thought with our rehearsal schedule being disrupted/non-existent at times we would struggle, but we didn't.
My 3 older children from my previous marriage did not get to spend Christmas with me. I was supposed to have them for Christmas Eve and half of Christmas Day this year, but instead their dad wanted them to go with him to Iowa. You see, his father was suffering from stage 4 brain cancer and was not expected to live much longer. They visited him Dec. 23-Dec. 25, came home Dec 26 and he passed away January 1st. I'm glad they got to see him before he left this earth for home.
My Christmas Eve was spent at church since we had 2 services, and then Christmas Day we traveled to my grandmother's house. My brother and his wife were able to travel from the Tallahassee FL area, and we were only missing my sister and her family from Virginia.
The day after Christmas, we woke up early and drove what felt like forever to the Tampa FL area to my husband's aunt's house. She has stage 4 lung cancer that has spread to her whole body and is home on hospice care. That day the doctors said she has less than 2 weeks. Today marks the 1 week point. We stayed there until NYE.
My midnight kiss was a quick kiss as we were driving home. I haven't had my husband home with me for NYE in 3 years, so I was grateful we were together.
The past two days have been spent taking down all things Christmas, cleaning, and putting our house back together. We had Christmas with my 3 previously mentioned kiddos on January 1st, and within 24 hours after that had everything put in their proper boxes for storage.
Rather than doing a full 2016 recap, because really my life's highlights aren't that newsworthy LOL (and you can always scroll through my old posts), I am going to move on to my 2017 goals. And to keep it simple, I am only going to set 3 goals for this year.
Keep running and getting more fit. It's not about my weight but rather about my personal fitness.
Travel! We have at least 2 trips on the books for this year so far: Ireland (YAY!!!!!) and a hike on the Appalachian Trail (no not the whole 2,000 plus miles but rather let's see how far a 6-year-old can manage over a 3 day weekend).
Get financially stronger. I want to pay off my credit card debt and finish paying for the pool screen loan. By the end of 2017, I'm planning on trading in my paid-off van for a truck or SUV of some kind since we don't need a 7 seat vehicle anymore.
That's it! Feels pretty doable. They aren't like crazy resolutions or anything unreasonable, but I feel good about them. I'm starting off with my January goals staying just as simple.
Run at least one 5K this month. I have one I'm eyeing but I'm not sure yet.
Pay more than the minimum payment on credit card and pool screen loan. Since I also have a dentist and optometrist appointment this month, it may be a stretch, but it'll happen.
Receive the Navy Reserves Selection Board results. Now the board meets January 9th, and I'm really hoping to hear before the end of the month… although I've been told it could take into February. Here's hoping!
Oh yeah and here's how I did for my December goals:
Submit my packet for the Navy ON TIME! As was noted in my mid-month update, I BARELY made it, but it was one time.

Success

Set another PR. So no PR at that 5k. It was hotter than Hades and had like 300 kids we dodged the entire time…definitely FUN but no PR.

Fail

Find the time to have a relaxing evening with my husband. This did not really happen either. We were so stunned by the news of his aunt and getting everything ready to get to her quickly on top of regular holiday stuff that it was a no-go. HOWEVER, we did spend all day yesterday just chillin, and we had a long ride home that we were able to talk about a ton of stuff so that counts right?!
So…2016 didn't exactly end how I thought it would, and 2017 is starting off with good-byes I was hoping wouldn't happen at all. Like every year, I know there will be ups and downs or as I like to call them…moments of Sunshine and Struggles, but I also know that God is in control, and he has a purpose for and in everything. Hallelujah!