If you've been reading this blog for more than a hot minute, you know that we've been working on getting a pool added to our home for about a year. The financing was a nightmare, but once we finally cleared that hurdle, things have been going at mach speed. We got to swim in it over the weekend!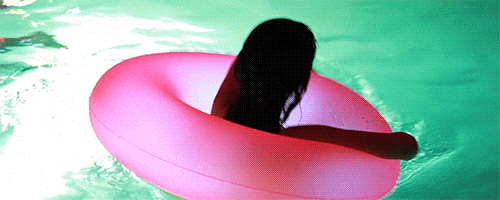 But it was cold!!!!!! The heater hasn't cleared inspection yet, so until we are cleared, there is no heat in the pool and the hot tub, alas, is still unused. My husband also seems to think we have a leak somewhere because we seem to be filling up our pool more often than we thought we would. Everything is starting to look beautiful, but we aren't done yet. We still have gutters to be put on this week, irrigation to be redone, sod to be put in, the propane heater to pass inspection, rock to be moved (again) and a trench to be dug for irrigation, more rock to be moved to the back from the driveway, plants to be put in the new pots, salt to be added to the pool, and complete pool school. Whew!
So as we were getting to the point we could swim in our pool, we knew that the one wall facing the pool needed some TLC. The entire house needed work when we bought it (it was a bank owned home), and we've done a TON to the inside, but hadn't really done much to the outside in the way of paint. My project this weekend was to get that wall looking good. My husband patched where the A/C unit used to be along with a few other spots. I sanded them down (some turned out better than others), and then started with the soffits. Our soffits were white, and I don't know what the previous owner did back there, but the paint was scraped off along almost the entire back of the house. Ridiculous. Anyway, I got the soffits back to white again, painted the trim around the doors and window white, and then got to work on the brown. We did a good job of matching the original paint and the deck paint. After 5 hours of work on Saturday, I sat back and admired my work. This is the "before" picture…see how that soffit is SO beat up??
And this is the "after":
Lookin' good if I do say so myself! Next update on the pool will be when everything is finished! WOOHOO!