This past Saturday I took my youngest little guy and my daughter to their first college football game. My parents, who are season ticket holders, picked us up SUPER early (thank God dad offered to make that drive!), and we met up with my brother and his wife, who are students there. We did some token tailgating before the game and then we headed over to the pre-game festivities. We went through the school store at the stadium and got a t-shirt for my son and a hoodie for my daughter, and then we headed in to the stadium.
Yes that's right kids. We went to the FSU game. It was senior night. It was also a blowout. 😀 This was a test for my youngest and a much-anticipated experience for my daughter. We are hoping to be able to take our little guy to a Buffalo Bills game, but we weren't sure he could handle it. I've taken him to a couple of high school football games, and this would tell the tale. He did great. Other than not wanting to eat the pretzel or the nacho chips, he was good. I saved the day when he got the Dippin' Dots in an FSU helmet. Go Mom Points!! I would be good with taking him to an NFL game now. YAY!!!
My daugher very much wants to go to FSU. She has said this since she was in middle school. Now that she is halfway through her Sophomore year, it's time she got serious about finding out the entrance criteria and making it happen. She asked my brother and his wife a lot of questions about the building on campus and class sizes and whatever else she could think of. She critiqued the Pom squad and the cheerleaders, and decided she could do either one of those teams. All in all, it was a great experience for both of them.
I went to ALL of the home football games when I was in college (not as FSU), but my school was much smaller than FSU, so it had all the same elements magnified 100 times. It was great. The stadium was great. The game was great. However, I think I must just have this look about me that says, "Hey drunk guy, make sure you sit by me and talk to me through the whole game". It literally happens to me every game I go to, and apparently college football is no exception. This guy, who was barely 21, sat in front of us and then turned around and blabbed…the. entire. game. I tried ignoring him. I tried joking he was being annoying. I even missed all of halftime and the start of the 3rd quarter thanks to waiting in line for Dippin Dots. Alas, he didn't take the hint. He left with his 2 sober friends with 3 minutes left in the 4th quarter.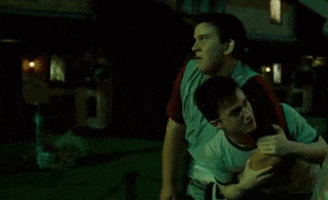 College football is a different sort of animal. The rules are different, there is a band, and there's lots more chanting and singing. I still prefer Buffalo games, but it was fun. Speaking of Buffalo…it is ON tonight! #CircleTheWagons #BeatThePatriots #GoBills!!!! And if the game has the same result as this one, it's gonna be a great night: